Personalized cover and dust jacket
Do you want to strengthen your relationship with consumers? Increase your sales, even of those titles that are lingering on the shelf? Personalize your cover or create personalized dust jackets!
Prografix offers the possibility of co-designing the cover and dust jacket of a book / magazine by adding personalized text of customers (including dedication). This unique edition will be a great souvenir. A personalized book is perfect as a gift for friends or relatives.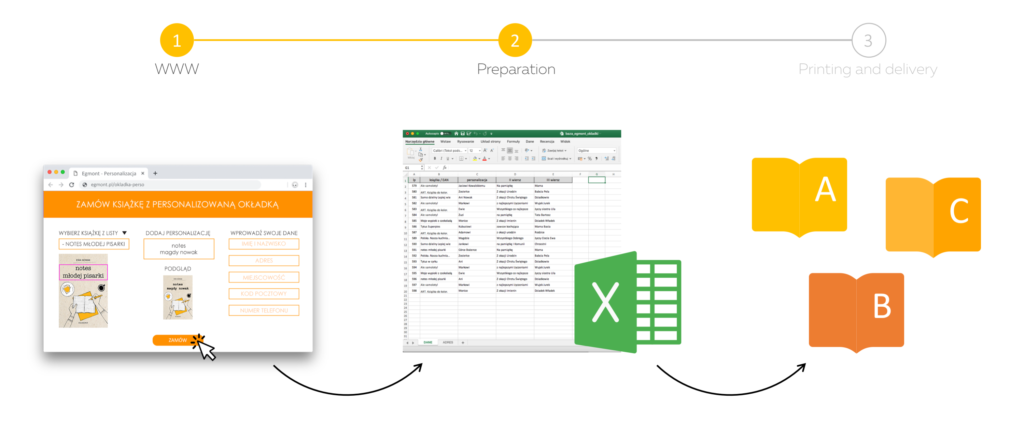 Sprawny Marketing – a lot of personalized covers in one edition

Prografix developed a platform that allows the customer to upload photo and enter personalized text. The photo and text were automatically suited into a cover of the magazine, which went into production.
Production processes: DTP/CTP, printing, personalization, cutting, folding, laminating (softtouch), refining with spot UV varnish + 3D, glued binding.
All of magazines were packed and sent to client's warehouse.

Over 65% of readers shared their Personalised Cover in social media.
Database extension the campaign helped to gain new subscriptions and personal data, which can be used for further deep personalized communication campaigns 1:1.
"Cooperation with Prografix is always extremely professional. The company offers the highest level of performance of the agreed work, and the contact persons try to adapt the solutions to the client's expectations. The print quality of the commissioned materials was definitely satisfactory, especially the quality of the refinements used. Prografix employees are professionals who provide advice and help in choosing the best solutions, ensuring that the final appearance of the product does not raise any objections."

sprawny.marketing
HOLY BIBLE – personalized dust jacket

Prografix: direct marketing helped publishing house Dom Wydawniczy RAFAEL to increase sales and quickly sell inventory of Holy Bible.
Our client on his online store provided the opportunity to personalize the cover of the Holy Bible and the first page – the inset. Everyone could add a special dedication. Prografix personalized and printed insets and covers, then confectioned books, received from Rafael, packed and sent all to Rafael's store.
Personalization of "Holy Bible for young people" gave a new impetus in the promotion and sale. It has worked like a magnet. We have never had such extremely good opinions about any of the promotion campain before. Well done Prografix!

Andrzej Sobczyk, e-commerce director at Rafael
Prografix: direct marketing – expert in variable data printing and 1:1 communication.
Prografix helps clients reach their consumers with individual message, both in the text and the image. Thanks to advanced printing technologies and reliable database management Prografix personalizes over 1 000 000 documents every day.
"Cosmos for Girls" Fundacja Kosmos dla Dziewczynek – Cosmos for Girls Foundation.